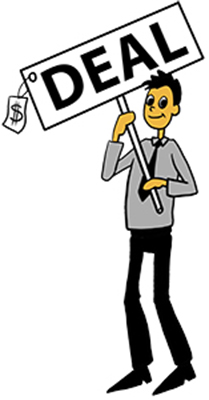 If you are a solid business worried about credit and the like, please take a moment or two and read this entire article. It may open your eyes a bit, and will likely make you feel a lot better about the current state of affairs.

Essentially, this article is a direct response to the current (12/08 and beyond) economic climate, and questions posed to us by businesspeople.

In a nutshell, the sour economy has been blamed on credit and borrowing. This, of course, is only partially true. But the reality is this: it does make for some bad press. It seems every time you turn on the TV, you hear that "credit is bad" and "nobody is lending". So, being equipment financers, we get hit with questions like:

• Has all lending completely dried up? (no)

• Are you still in business? (yes)

• How are things… are you okay? (we're fine)

• Are you only lending money to people who don't need it? (this was always a misconception to start with)

• Do you have to put more than 20 percent down to get an equipment loan? (no)

• Are any industries doing well in this economy? (absolutely)

• Can anybody qualify anymore? (sure… read on)

Now, despite our inserted answers to the questions, there is definitely some justification for these questions. Yes, credit has gotten harder to obtain, but not nearly to the extent that people think. Yes, defaults are higher, but again, not to the extent people think.

Without further ado, let's go over some hype/facts and give you some more detailed answers to some of these questions.

The Facts that Lead to the Hype:

1 - Credit Crunch is Affecting Small Businesses
According to the 'Small Business Economic Outlook' report issued by the Congressional Committee on Small Business last month, "recent economic conditions have led to several troubling patterns in credit availability and credit costs for small firms. Small businesses have seen that it has become more difficult to secure capital. At the same time, the terms of loans are higher than in previous cycles. These factors have contributed to a precipitous decline in small business lending – a problem which could impact the ability of small businesses to grow and expand."

The Federal Reserve's Senior Loan Officer Survey for the third quarter of 2008 showed a dramatic tightening of lending standards reflecting an environment where the supply of credit for small firms is lower than it has ever been in the history of the Fed survey: Federal Reserve Study of Small Business Finance (SSBF)

2 - Borrowers See Higher Costs for Capital
Notwithstanding the efforts of the Fed to stimulate activity in the commercial lending markets, small businesses have continued to see higher borrowing costs for capital. The most recent Federal Reserve Survey of Senior Bank Loan Officers saw over 70% of loan officers reporting increased interest rate spreads for loans to small firms. This represents the most widespread increase in rate spreads in the history of the survey, and stands in stark contrast to conditions one year earlier: In 2007, over 30% of loan officers were actually lowering spreads for loans to small firms.

So… what does the above all mean???
It means that businesses – even those with good to great credit scores - going through traditional lenders (mainly banks) are having a harder time getting credit. In fact, in a recent news report, Chris Rupkey, chief financial economist at the Bank of Tokyo-Mitsubishi in New York said "Credit is hard to get and is going to get even harder to obtain in the future''. This is the opinion of a senior level officer of a world bank. Heavy stuff indeed.

Basically, what all of this boils down to is that you can expect a harder time when you walk into your bank. Even if you have a good credit score, and even if you already have a line of credit.

But wait – the sky is NOT falling!!!!
We admit, this had sounded rather gloomy so far. But that's about to change.

Please note several key words and phrases in the above – "traditional lenders" and "banks". We did NOT say "equipment finance companies".

Here's a quick definition / mission statement regarding such:

Equipment Finance Companies - Our mission is to employ funds to obtain a return, not let cash sit idle -- we're not restricted by regulatory bureaucracy or fear of inadequate cash reserves. Equipment leases and loans? They're still around for the picking for those who qualify.

So here's the deal – we are still here, and more importantly, we are lending!!!

And we're not just lending to rich companies with 20% down. In essence, we take a bit closer look at credit history and financial stature than we used to, but it's basically business as usual around here. We're not bound by the same regulations and rules that banks must follow.

This means if you are a solid company looking to finance equipment, then we want to talk to you.

More Good News

Let's talk marketing/business a little… savvy businesspeople know that recessions are unavoidable (and even somewhat necessary) in an economy such as ours. And they also present opportunity – HUGE opportunity.

See, when the economy is bad, many firms lower their prices. Thus, this gives solid companies an opportunity to buy equipment, software, and vehicles (aka: "real assets") at bargain basement prices. It also allows solid companies the opportunity to USE those new assets to distance themselves from competitors (who may have "turtled" and reined everything in.) So guess who all of a sudden has a BIG advantage when the economy strengthens??

Listen, this is just common sense - it's EASY to expand/compete in a good economy when everyone has oodles of cash. But only solid, smart companies can expand/compete in a slow economy.

And for those solid, smart companies, Crest Capital is here to serve you like we always have. If you need equipment financing or equipment leasing, we're here. Not only are we here, but we're healthy as ever, we have ultra-competitive rates, and no, you don't need 20 percent down to be approved.

Contact us if you need equipment financed – we want to help.
Crest Capital is an Equipment Finance and Equipment Leasing company that provides businesses with the funds they require to obtain the equipment they need. Regardless of the strength of the economy or the current economic climate, Crest understands that solid businesses still wish to grow, and strives to provide easy financing at great rates, with the fastest approval time in the industry.