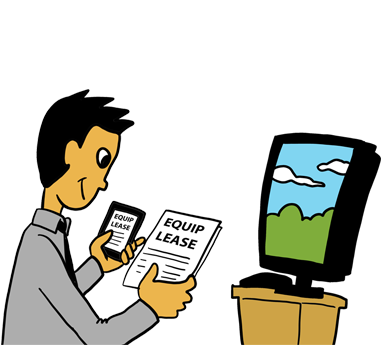 Crest Capital has been in business for more than 25 years, so when we started, the internet was just a figment of Al Gore's imagination (ok, not really.) But it is true that when we began financing equipment for companies, every deal was conducted with a maximum amount of face to face (or at least voice to voice) contact. We did thousands of loans and leases in our local area, all consummated with an in-person handshake. Many more deals were first sparked at trade shows, and then fulfilled later over the phone.

While we still pride ourselves on personal contact and real relationships, regardless if the deal is in-person or cyber, it is true that most of our business now comes from the internet. Of course, we like to think that it's because online lending is easier, faster, and generally better than walking into a bank (and it is – that's definitely part of the reason), but the surprising thing is how many banks are literally pushing small businesses away.

According to a working paper recently published by Harvard Business School, a full 50% of bank loans were to small businesses in 1995. This number steadily dropped, and in 2012, was 30%. That's a huge drop in only 17 years.

What's interesting is the overall number of small businesses has never been larger. There are almost 29 million small businesses in the US. While more than half are home based, and a great majority (23 million) are sole proprietorships, that still leaves nearly 6 million small businesses with employees, which account for almost all of the small business lending market. In other words, the number of businesses who are prime borrowing candidates has never been bigger.

So if the number of small businesses is as large as it's ever been, and the amount of bank loans to small businesses is shrinking, several scenarios responsible for an increase in online lending become instantly apparent.




"There are fewer banks that lend to small businesses."
According to the Harvard paper, during the financial crisis, troubled and failed banks reached levels unseen since the Great Depression. Those hardest hit were smaller community banks – the very banks that made face to face small business lending a large part of their business. Couple this with fewer banks starting up, and you have a clear "small business lender" void (to give an example of fewer bank startups, we need only look to 2011 when, according to the FDIC, there were no new bank charters. This is the first time in the organization's 80-year history that this has happened.)


""Remaining banks are simply shying away from
small business lending.""
This is definitely a trend, with several factors contributing.

First, since small businesses (just like the smaller banks) are far more susceptible to the overall state of the economy, it makes small businesses, as a whole, a larger credit risk. We're currently six years removed from the financial crisis, but to most people, the economy is still not "good", and there's a general feeling that a downturn could happen anytime. True or not, this continued pessimism makes small businesses look like a poor investment to banks.

Secondly, many of these banks simply do not see the ROI on small business loans as worthwhile. For instance, a great majority of small businesses seeking loans are looking for less than $250,000 (in fact, many are looking for $100,000 or less). But, for the bank, the non-capital cost required for a small business loan is the same, regardless of loan amount. So the ROI on a $1,000,000 loan is far greater than a $100,000 loan, as they both have the same administration cost. This leads to banks putting a minimum on small business lending – if the minimum loan amount is $250,000, where does that leave a local insurance office looking for a $50,000 loan for new signage?

Thirdly, since small and medium businesses often have no requirement to disclose financial records like a large publicly held corporation would, and their footprint is also very small, there's no real transparency. If Ed's Auto Parts, with six employees and annual sales of 2 million, wants a loan, the bank cannot look up their financials, or even "see" anything beyond the one location and a four year-old delivery van. Instead, they have to sit down and talk with Ed himself. This lack of public transparency adds to the administration cost we previously mentioned, and also makes these larger lending institutions extra wary of any smaller company they cannot "see" the financials of with a few mouse clicks (or, in the case of private companies, at least point to multiple instances of obvious collateral, like buildings, fleets of vehicles, and similar.)

The above have combined to create an environment where the banks that are still in business today are more comfortable lending larger amounts ($250,000+) to larger entities.


"Online Small Business Lending has become very easy!"
Online small business lenders have utilized technology to create not only a streamlined, intuitive application and approval process for small business borrowers, they have also developed advanced algorithms in making fast decisions on creditworthiness. This allows for an expedient application process that sometimes allows for a credit decision in less time than a businessperson might sit waiting to speak to a bank's loan officer.

Couple this with the paperwork factor. Indeed, many small businesspeople spend hours filling out forms and gathering exhibits like past tax returns, financial statements and similar. These steps are often completely eliminated by online e-lenders, who often only require a simple application (for example, here at Crest Capital, we require but a simple online application for loans up to $250k, and do not require exhibits for such either).

These factors all combine to mark a clear shift in small business lending, where geography is less important than actual business and lending acumen. These days, a solid small business can now look beyond their local area and work with an online lender that is not only happy to offer loans in the amounts the small business requires, but is also easier to work with as well.