Special 2010 Tax Incentive Report
Sean Marten - Senior Credit Analyst, Crest Capital - 06/28/2010
The Section 179 Deduction has been great to businesses for years. But did you also know that when it is combined with equipment financing, it can literally put thousands of dollars in your pocket?

It's smart to take a look at using the Section 179 Deduction for 2014. That's because Section 179 offers incredible chance to acquire needed equipment, and increase your cash reserves at the same time. And 2014 is the perfect time to take advantage of it, as the limits have been made higher with the passage of HR 8, American Taxpayer Relief Act - if you want 2014's bottom line to look better, then act now.

This is especially true if you choose to finance the equipment you buy. How good of a deal can Financing Equipment and using Section 179 be? Take a look at the below chart: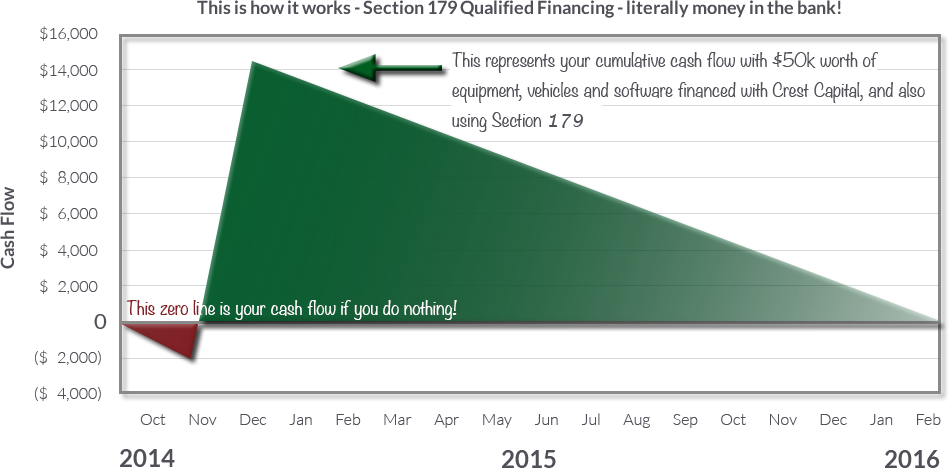 The above assumes $50,000 worth of equipment financed in October 2013, with a monthly payment of $1,120.
The annual return/equipment gain in 3% ($125 per month). This makes the true net payment $995 per month.
The Section 179 Deduction (50k, which results in $17,500 net tax savings) is taken in Dec 2014. That amount, less the net payment of $995 each month, will provide a positive cumulative cash flow until Feb 2016.
This means you will not truly begin paying for your equipment (in terms of net bottom-line dollars) until Feb 2016. Of course, you've used (and profited from) the equipment during that time, and also paid a full 17 months on the loan term. This is why Section 179 Financing is such a great deal.
This is it - this is "our" government bailout. Section 179 is the only government help that small and medium sized businesses are going to get, both now, and likely for the future. But as you can see, it's especially effective, particularly when combined with financed equipment. It will add to your bottom line, and ensures that you don't truly start paying for your needed equipment until well into the future.