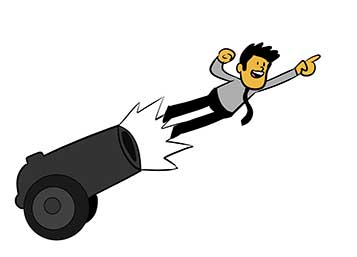 We're well into what we can only call that "new normal" we've been hearing about. And one of the most prolific parts of this new normal is the scarcity of goods.

In short, many items have become quite hard to procure quickly, including scores of B2B equipment.

It doesn't matter what the item in question is – a specialized (or not-so-specialized) machine, a work vehicle, a specific tool, etc… not being able to get business equipment when it's needed can be problematic. And the more important the equipment is to your ability to produce revenue, the more critical this becomes.

But it's not only the scarcity that is an issue – it's also what happens when items do become available.

Many suppliers and distributors have stopped taking preorders on goods as they are unsure of the reliability of their future stock. The best they will do is send out an email blast when they have stock. Then it's a first-come / first-serve free-for-all. Either you buy it now, or you risk getting shut out again.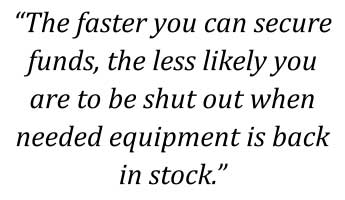 That means speed is critical if you want to stay ahead of the competition. Speed in making a buying decision, and speed in securing the funds.

The first part I can't help you with. Making fast buying decisions is 100% internal to your company.

However, the second item is something we've made a priority since day one 30+ years ago – our equipment financing application process is quick and easy, and our approval / funding speed is amongst the fastest in the industry (if not the fastest).

In times past, this was more a convenience than anything. Of course a company doesn't want to spend a few afternoons gathering forms to apply for a loan or wait days to get approved. So our speed was always appreciated, even if it wasn't mission critical in securing an item as suppliers always had stock, and plenty more on the way if they didn't. Ahhh, good old 2019…

But that has changed. Stock is not readily replenished. The faster you can secure funds, the less likely you will be shut out when needed equipment is back in stock.

Reread that line again, because it really matters today. Getting your funds quickly is now one of the most important parts of the entire transaction process. It's no longer simply a convenience – it's securing your place at the head of the line when the window opens.

How Fast is Fast Anyway?

From application to funding, we can likely secure your financing in less time than it would take your accountant or assistant to gather seven years of tax returns (and unless you need more than a quarter mil, we won't need those anyway.)

I'm not kidding. Same-day funding is possible. And almost certainly by tomorrow.

We've been doing this for 30+ years, and speed is always something we've stressed. Like I already mentioned - it used to be a nice convenience, but today it's very much a huge advantage for our clients. Moving forward, being able to say "yes, I'm buying" without hesitation and getting fast equipment financing to back it up will make a big difference.

How fast can you buy? It's a question you want to answer quickly.