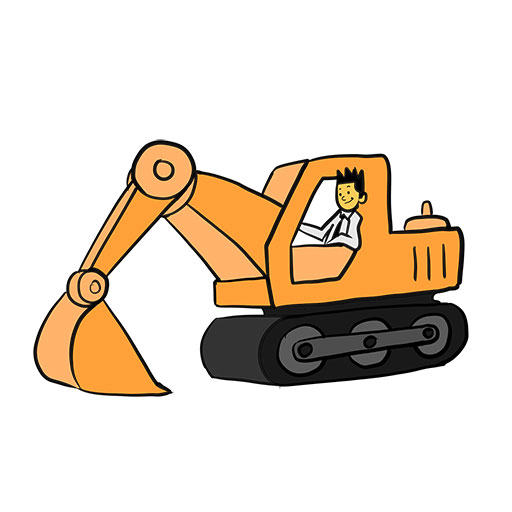 An excavator is a must for any job that requires earth, rock, or debris to be moved. They are commonly seen on construction sites, mining operations, demolition projects, road and municipal projects, land and forest clearing, and anywhere else a powered machine that scoops, pushes, and moves tons of material is necessary.

Crest Capital has provided new and used excavator financing since 1989. We've always understood the need for these machines, and have continually updated our lending process to provide a fast, easy way for companies to finance excavators (leasing too). We offer competitive excavator loan and lease rates, the best terms, and the fastest approval process in the lending industry. It's no wonder we're the USA's #1 choice when it comes to business equipment lending.

The Benefits of Crest Capital's New and Used Excavator Leasing and Financing



Our Fast and Easy Application - For excavator loans under $250k, it's one simple online form, with no paperwork or financial records necessary. It doesn't get any easier.



Competitive Fixed Rates - Nobody beats us when it comes to new and used excavator lease rates and terms. Low monthly payments, without restricting blanket liens or other covenants.



Fast Approvals – Need an excavator loan or lease fast? Look no further – we can usually approve new or used excavator financing deals in a few hours.


Excavator Financing Frequently Asked Questions (Always Updated)

What Are New and Used Excavator Financing Rates?
Our rates for financing or leasing excavators are extremely competitive – nobody in our industry beats us. Add in the fact that we don't have all the restrictions most banks impose, and it becomes an easy decision.

That stated, Crest Capital prides itself on always offering the most competitive rates for new and used equipment loans and leasing, with the best terms as well.

Do You Offer Fixed Rate Financing and Leasing?
Yes we do – all of our excavator leasing and financing rates are fixed, resulting in predictable low monthly payments.

Are Approvals Fast For an Excavator Loan or Lease?
Absolutely! Most deals can be approved in as little as a few hours. We'll never keep you waiting.

Do I Have to Have a Lot of Collateral to Finance an Excavator?
Not at all. We only used the equipment you financed as the collateral. So you need nothing else.

Are There Other Restrictions or Covenants?
Nope. Unlike the local bank, we do not ask you to keep a minimum account balance. Further, there is no annual loan requalification (so there's no worry about the excavator lease or loan being called in early).

Are There Restrictions Regarding the Type of Machine I Buy? And how about Financing a Used Excavator?
You can finance or lease an excavator of any make or model. And indeed, used excavator financing is available.

Can I Easily Pre-Qualify?
You most certainly can. Simply click the "check your eligibility instantly" button below, and withing five minutes, you can see if you prequalify, without a credit check.